Student Profile: Ran Yan, B.S.
---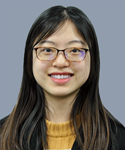 ---
Graduate Student Researcher
Office 300 UCLA Medical Plaza, Suite B114
E-mail ranyan AT mednet DOT ucla DOT edu
Web Sung Lab
---
Research – My research interest focuses on cardiovascular MR to characterize the myocardium. We are developing T1 mapping and other techniques for the assessment of myocardial viability and for the detection of acute myocardial ischemia. These techniques have potential use in exercise stress testing.
Research Insterests – Cardiovascular MRI, T1 mapping, Stress test, coronary artery disease
Background – I did my undergraduate studies in biomedical engineering at Shanghai Jiao Tong University. In Fall 2018 I joined Prof. Hu's lab at UCLA as a Ph.D. student in the Bioengineering Program. Currently, my research focuses on developing quantitative imaging methods for the diagnosis and characterization of coronary artery disease.
Favorite thing about UCLA – Beautiful campus and kind lab mates.