---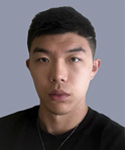 ---
Graduate Student Researcher
Office 300 UCLA Medical Plaza, Suite B119
E-mail lingyuhung AT mednet DOT ucla DOT edu
Web Sung Lab
---
Research – My research focuses on applying machine learning and computer vision methods in medical image analysis. Specifically, I am currently working on inter-slice attention-based prostate zonal segmentation as well as uncertainty modelling in segmentation.
Research Insterests – Deep learning in medical imaging, Interpretability of deep learning models for medical image analysis, MRI image segmentation
Background – I received my Bachelor's degree at Peking University in 2019, and my Master's degree at Carnegie Mellon University in 2021 before joining the PHD program at UCLA in the 2021 fall.
Favorite thing about UCLA – Wonderful people and good weather:)